The In2Touch Social World Cup is Back!
9th September 2023
A favourite for the Touch calendar in London
The annual In2Touch Social World Cup takes place on Saturday the 9th of September 2022. This is a fantastic opportunity for players to get involved in a social touch tournament.
Get the team together for the best social event of the Touch calendar. Bring your friends and partners to a social day of touch in Fancy Dress outfits and a party.
Event Details:
Date: Saturday, 9th of September 2022
Time: 10:00am start (all-day social mixed tournament)
Venue: King George's Park, London, SW18 4DN
Cost: £245 per team or £45 per individual
Fancy Dress: Each team will randomly be given a country at least 3 weeks before the 9th of September. Giving you lots of time to try and WIN the Best Dressed Team Prize.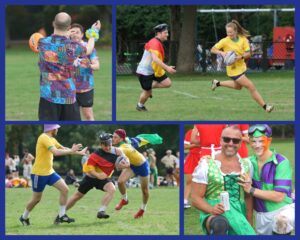 Tournament Structure: There will be a round robin game where every team will play at least 3 games. Teams will then split into the Cup and Plate competition, depending on where each team finished after the pool games.
Picnic: Teams are encouraged to bring food and refreshments with them when they arrive at 9:30 am. Southside Shopping Centre is 5 minutes away if you would like to stock up on anything during the day. The most spirited/supported team will also WIN the Team Spirit Prize.
Afterparty: The Garrett Tavern